Kerry Ann Reid-Brown is the founder of blog and podcast Carry on Friends. Through Kerry-Ann's life experiences and professional acumen for connecting with people, she has developed a voice to inspire other while share her stories. Carry on Friends covers topics on personal growth, career/business growth, success and life.
What made you start Carry on Friends?
I noticed that I knew different people who were going through similar things but felt alone. I realized that because no one was sharing their experiences there was no way to know that someone is going through or went through something similar and therefore missing an opportunity to inspire or encourage others.  I started Carry on Friends because  I  have always felt that I had great people around me and I envisioned bringing them together and by creating Carry On Friends, an online community for them to share their experiences and expertise.
While you're focused on inspiring others, what would you say inspires you?
I'm inspired by other people including my family, friends, colleagues and people who I feel are doing doing positive things in their lives. I guess in this case inspiration begets inspiration. 🙂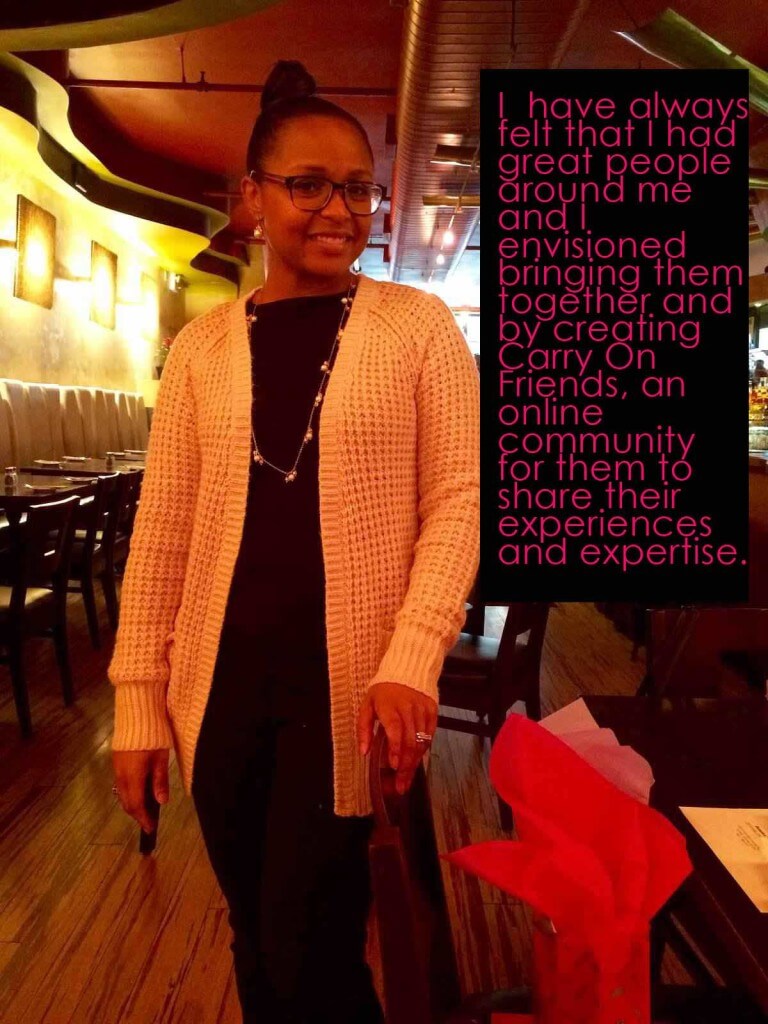 How do you decide what to blog about?
I did a reader survey last year and got a general idea of my audience's topics of interest. As a result, I've done one pivot and I'm going through another pivot to reflect the sweet spot that is my audience needs, my passion and where I feel is my area of expertise. The one thing I do for every article is I always ask myself how is this going to add value to readers? What will they learn from this? I want to make sure that I impart at least one resource or something immediately actionable.
How do you balance your blog and life outside of blogging?
In the beginning there was no balance. That all changed once I accepted that I'm not an entertainment or news blogger and therefore I don't need to blog everyday.  I use an editorial calendar to plan and schedule posts ahead of time. Every other week is a blog post on Wednesday and a new podcast episodes on Tuesday. This consistent schedule helps me to focus and have a routine that helps me and my family.  I try to have at least one week's written content already scheduled so I'm not writing Monday to publish Wednesday. Or scheduling tweets etc. I've gotten better about setting aside focused time to write but since inspiration comes anytime, I'm prepared to catch them with my Evernote.   All of this combined has resulted in me not feeling too overwhelmed or spending all my time with writing, podcasting and maintaining the blog so that I can have time for life outside of blogging.
What's the most challenging part of blogging?
The writing. It can take hours (or days) to draft, research, edit and add images to a blog post. Then there are days when I have writer's block. Which is why I've really been sticking to the editorial calendar and trying to have at least 1 to 2 weeks worth of content ready.
With so many bloggers and podcasters now, how are you differentiating yourself to stand out?
I have been learning that I can only stand out by being myself because my personality is the one of the few things that's unique to me. When I heard that I was like "What?!  that's it?!" But over time I realize that it is true because look at musicians who are in similar genres or actors who have played in similar roles. So for me and Carry On Friends while a lot of people are more or less offering similar things,  I carefully decide what I want to do and how I want to do it based on what value I can truly offer to others. Then just "Kerrify" it.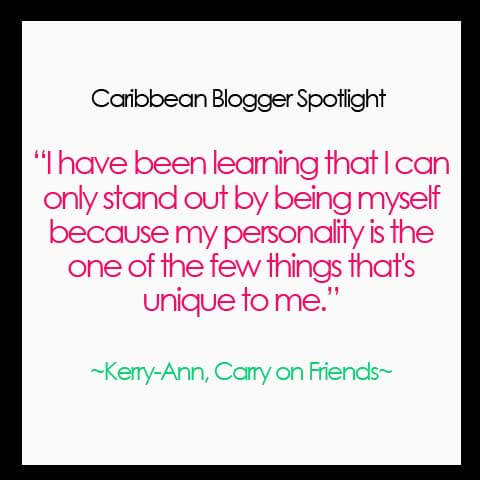 What are short and long term goals for the site?
In the short term, I want to be consistent with putting out content for the site and have frequent subject matter contributors to the site. Long term I'd love to have seminars/workshops, and/or  speaker series.
What are your favorite Social Media outlets?
Twitter because I've been able to meet some great people and have amazing conversations via Twitter chats. I also like Instagram, I don't post a lot of pics but I follow a lot of food accounts and my friends are really funny.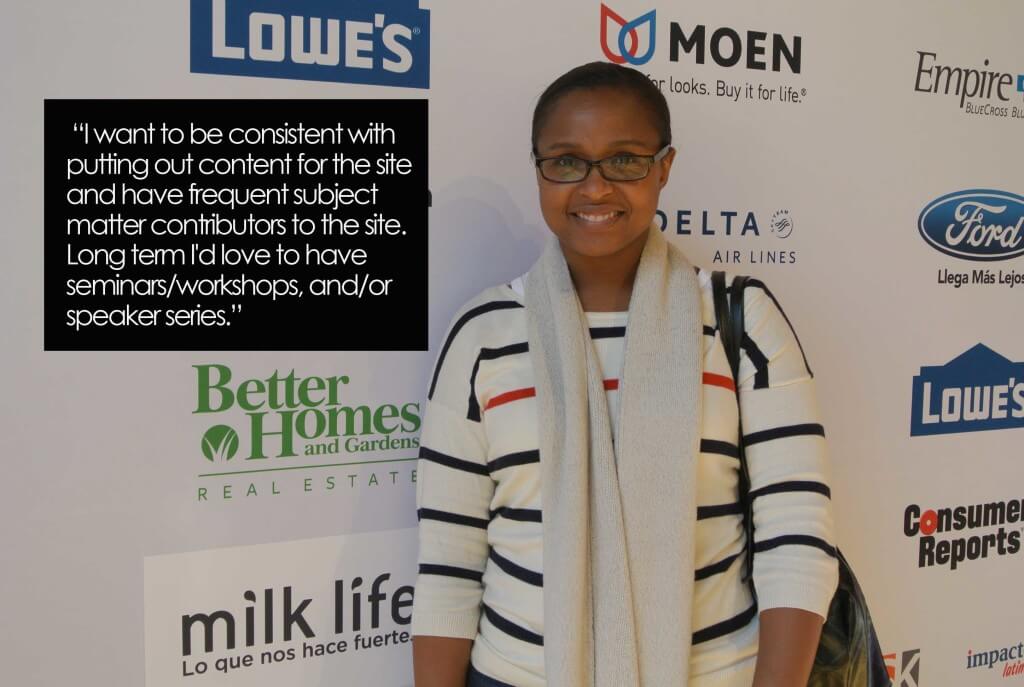 What are some of your favorite things to do when you're not blogging?
I love to spend time with my family. We can be a funny bunch and it's always a great time when we hang out whether it's watching movies, TV shows, sports, watching the kids play Just Dance or cooking. I love music – blasting some old school (and some new) tunes and dancing around the house is one of my favorite things to do. I read a lot and I love to journal it keeps me at peace.
How would you describe your style?
I'd say laid back because I'm not fussy. I know what works for my body and I usually go for classic pieces. I don't worry about what's in style too much. I focus on what looks great on me and makes me feel extra beautiful.
What are you Vibin' to right now?
I'm really loving "Winna" by Kelissa feat. Chronixx. The song has a powerful message and as I look at my challenges and those of family and friends – I know that yes we are "Winnas" because giving up is not an option.
Visit the Carry on Friends blog and listen to the podcast.
Want to be our next Caribbean Blogger Spotlight? E-mail us at Info (at) StyleandVibes (dot) com with your name and blog link.