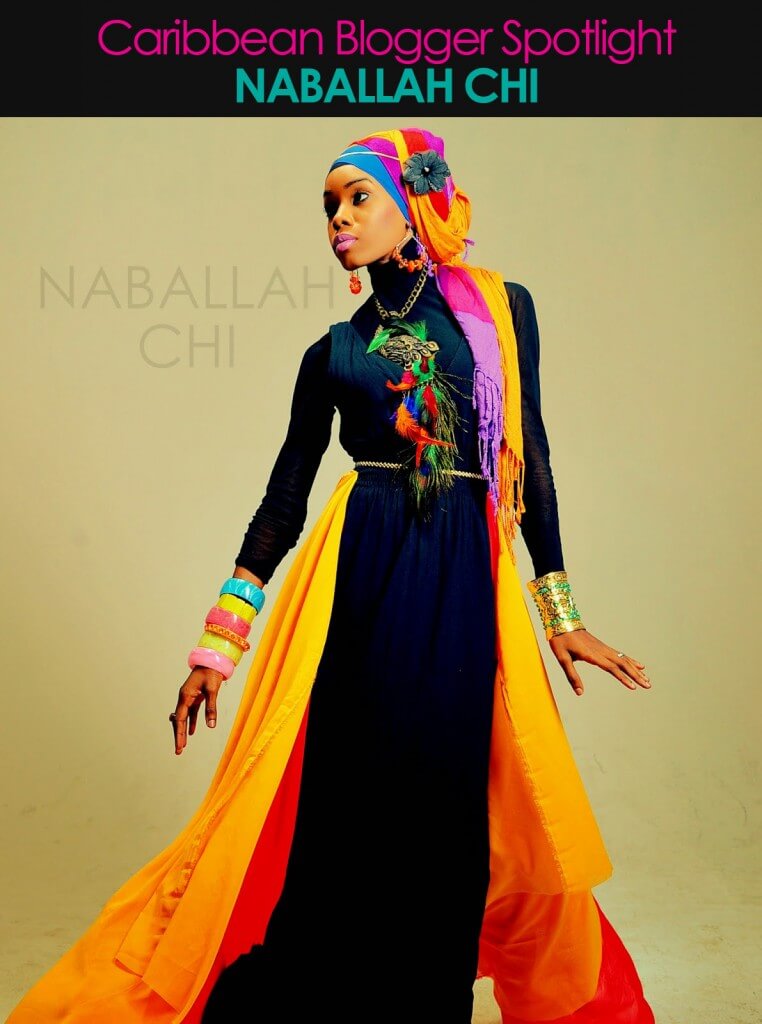 Photos by: L.I.M.E Photograpahy, Bruno Chi and Luis Young
I was delighted when Caribbean blogger Naballah Chi reached out to me to check out her blog. Upon viewing her site I immediately wanted to feature her for the Caribbean Blogger Spotlight. This Fashion Muslim blogger based in Trinidad & Tobago exemplifies the diversity of the Caribbean. Her unique voice and amazing photos are awe-inspiring. I was completely intrigued ability to effortlessly remain true to her muslim faith while displaying her passion for fashion prints and colors. As a fellow style blogger we (myself included) are inundated with what style bloggers are "supposed to look like", and with that come sameness; Naballah brings a refreshing look at fashion blogger with incredibly imagery that is anything but typical when it comes to fashion blogging.
Why/How did you start blogging?

 I've been meaning to blog, ever since I entered university in 2008 but I guess I procrastinated a bit…okay a lot because I officially started last year (2013).  I was especially inspired to blog, given that I wrote a lot and always liked providing my own perspective on things. I've also been highly inspired by my  travels, love for fashion, photography and off course being able to share with others my love for fashion on a whole. It only seemed fitting that I started a blog to document my personal creative perspectives. I like being able to share with others and interact with like-minded people. It's been a blast so far!
How would you describe your style?
 Eclectic: Classic but fashion forward, urban, polished, very DIY (I make a lot of my own clothes). I love bright and bold colors and prints,  so I vary wildly between coordinating colors, deliberately mismatching them. I don't like colors too one-dimensional (white and black being an exception), I prefer completely disconnecting colors.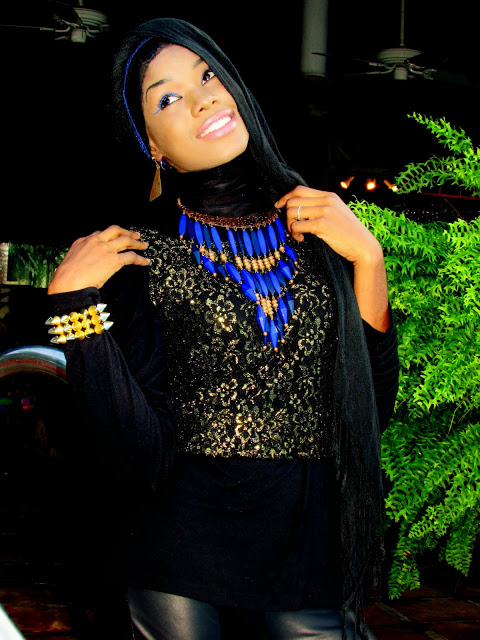 What do you want readers to know about fashion from a muslim perspective?
Being stylish and being Muslim doesn't clash, as most people think. I love my faith and, I also love being stylish and fashionable, but my faith comes first because it is what gives me direction; it is what I stand for and stand by. There is nothing wrong with being a stylish Muslimah, as long as its within the boundaries of Islamic requirements.
The first step is that I concur with the Islamic guidelines for the manner in which a Muslim woman should dress. Secondly, I acknowledge that there is a direct relationship between faith and fashion and style. Faith dwells on the inner beauty and fashion and style deals with the outer beauty. It is therefore of the essence that I am able to identify with the principles of my faith for dressing and understand how to synchronize my fashion sense and stylishness with my faith. Another way I accomplish this is throw out mainstream fashion rules, try out different things and not succumb to the clichés of what a Muslim woman should look like, in terms of dress code, nor what mainstream media defines as fashion or style.
These elements help me to be creative, and to find new ways of dressing and there's nothing inherently wrong with that. As much as I love to be fashionable and stylish, its integral for me to strike a balance in how I dress as a Muslim woman. Is it imperative that I consciously strive to strike a balance between my inner and outer beauty. Everything in life requires balance and style and faith is no exception to the rule. When one's faith is genuinely practiced, it influences every aspect of your life, including how you dress yourself. It's pretty effortless to adhere to the tenants of my faith and be  stylish simultaneously.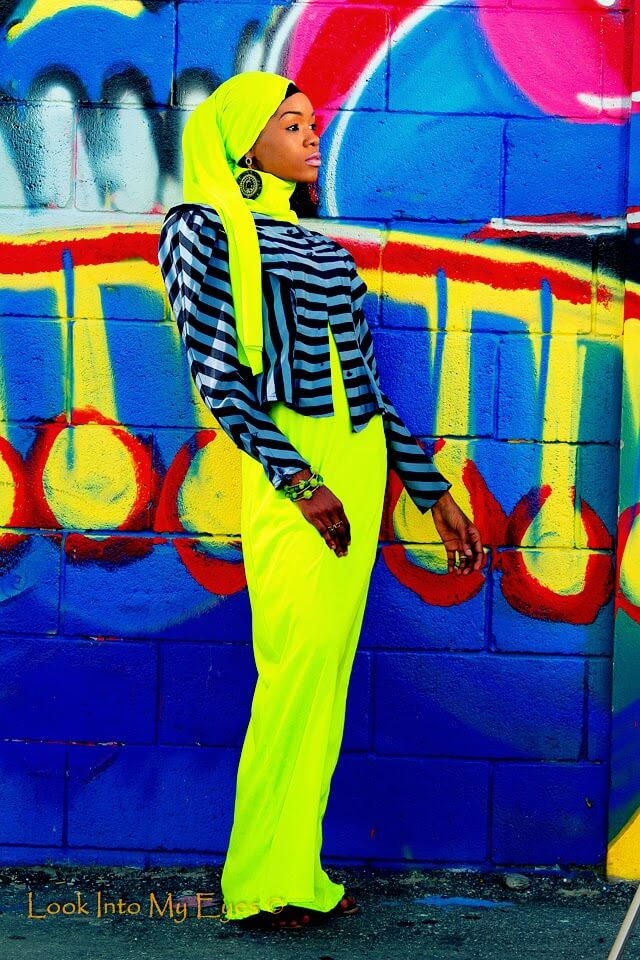 For you, wearing a hijab is essential to your Muslim faith. Wearing head wraps and turbans have become extremely popular over the last few year, what are you thoughts as it relates to the trend.

I love the turban trend. As a head wrap enthusiast and hijab stylist the turban trend falls right in my lap. I think turbans are stylish and functional and I love them so much that I have filmed quite a few videos (on my You Tube channel) showing others how to style turbans in various ways.
Being a Caribbean fashion/style blogger, how do you feel fashion differs from the rest of the world?

I sometimes feel that the Caribbean wants to blindly replicate design ideas, instead of redefining and creating fashion from our own uniqueness; fashion that connects us to our culture and heritage, fashion that helps us to express our individually and identity. Other times I proudly observe that Caribbean fashion is infused with the Caribbean's lush landscapes and diverse cultures, defined with colours taking their lead from the tones of the Caribbean, raw but warm and exotic. That's where we differ from the rest of the world. As a Caribbean fashion blogger, I believe Caribbean fashion has the ability to entice fashionable lifestyle visitors to leave with unique, quality designs from around the Caribbean, and at the same time demonstrate to reluctant Caribbean people the value in buying local and regional.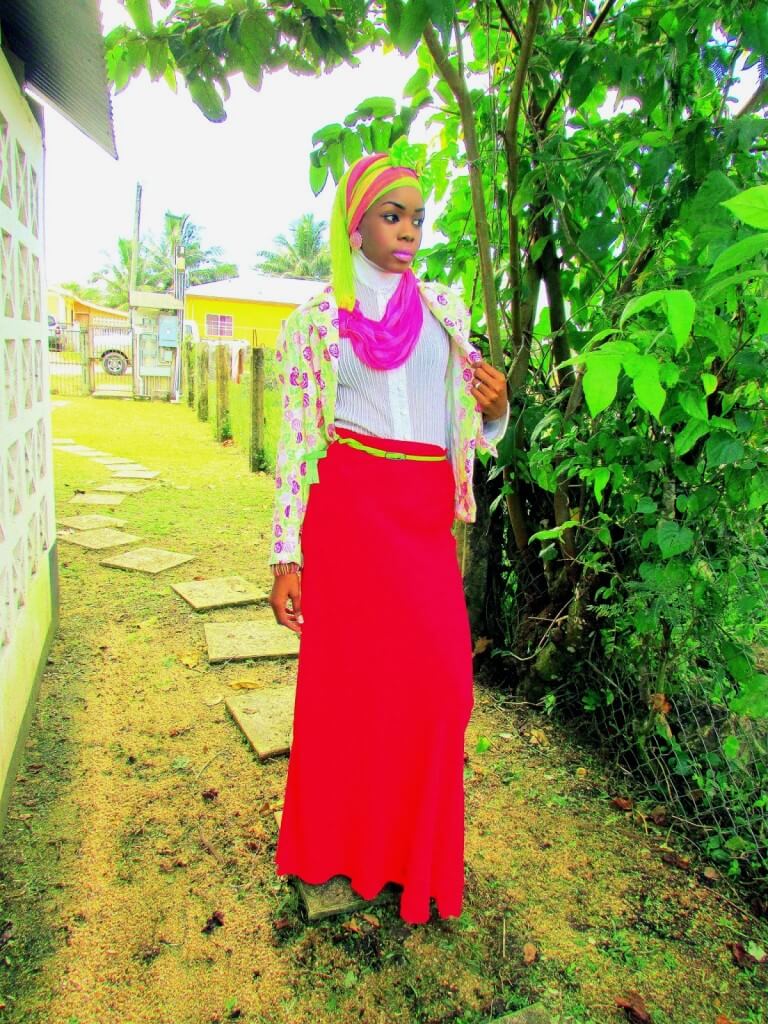 Who are some of your favorite designers and fellow bloggers?
My favorite designers have evolved over the years as I have transitioned from a high school girl who loves to dress up to fashion blogger  and now fashion design student. The designers I turn most to have evolved and changed with me. I really like designers who offer professional pieces that are stunning and timeless. My  favorite designers are Elie Saab and Zuhair Murad for being very consistent with their top notch timeless dresses , Alexander McQueen for being an absurdly brilliant designer who constantly reinvented himself and pushed fashion forward in mind bending ways, Dian  Pelangi  for pioneering and pushing the boundaries of Muslim fashion and Anya Ayoung Chee for her colourful, clean-lined, perfectly crafted, lightweight fabrics. As for fellow bloggers there are so many of them with great style, but frankly I always enjoy Inda Nada Puspita from Indonesia and Basma K from the UK.
What's your favorite social media tool?
I use Buffer for scheduling and sharing my posts to Twitter, Facebook, Linkedin and Google + throughout the day, at the optimal times. It's a super easy to use tool, and includes detailed analytics so you know what's working where, why and when. The best part is their browser extension that let's you "buffer" and share any web page, photo, even a text excerpt.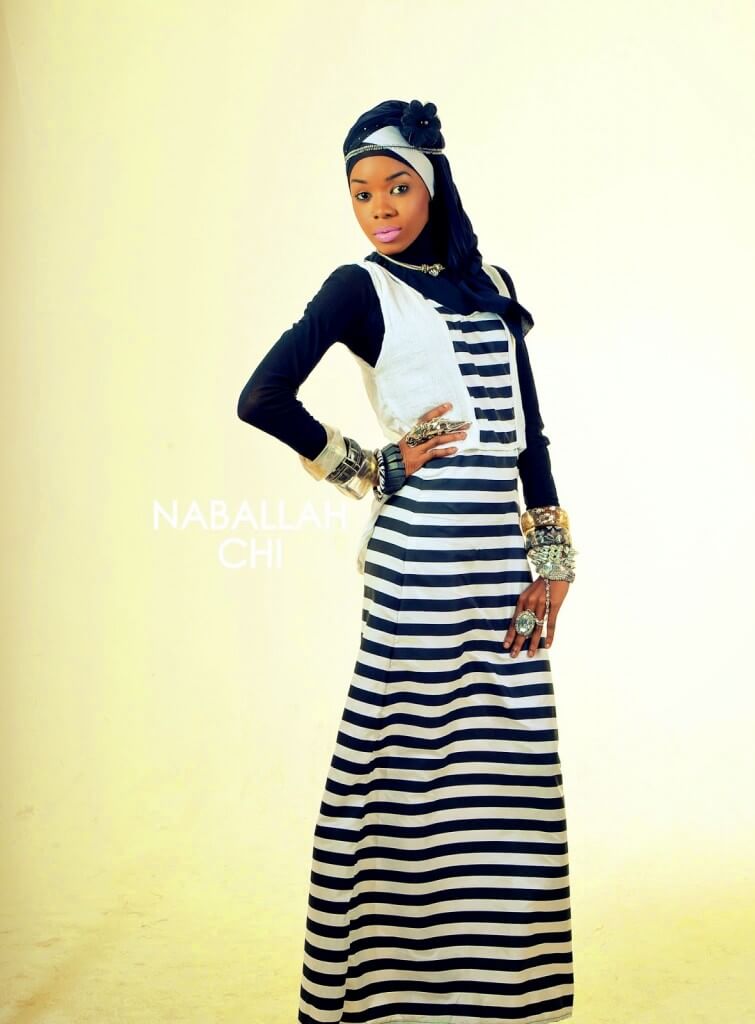 What are your future plans for your blog an Youtube channel? As you can surmise, I am quite vocal about fashion, so as long as I have life I will keep on living and breathing fashion, through my blog as well as my You Tube channel. I may slow down a bit due to the heavy work load and unwavering commitment that my fashion design academy requires, but I will never stop altogether. Eventually I want to be a brand. I want Naballah Chi Blog and Naballah Chi Channel and Naballah Chi on a whole to be a brand. That's my future plan.