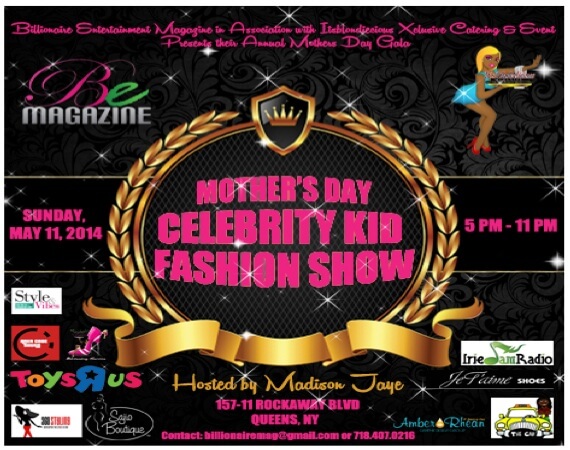 On Sunday, May 11 2014 Billionaire Magazine and ItsBlondelicious Catering & Events will host an event dedicated to moms! The Mother's Day Gala will not only feature a children's fashion show, but will honor women from the community, recognizing everyday moms for with efforts in raising their children and uplifting the community. The event will take place  at 157-11 Rockaway Blvd Queens, NYC from 5pm -11pm. I'm so happy to be a sponsor for this fabulous event which will also have handpicked vendors and Get your tickets now!
As Mom's special day draws near, why not delight mom with a gift that is unique and truly special. We have the perfect gift Billionaire Entertainment  and ItsBlondelicious invite you to join us for our annual Mothers Day Gala a indoor/outdoor event. Nothing says "Mom" like children, this year we have added a children's fashion show to our festivities. We will always be honoring five local Urban & Caribbean Mother In Business. (Honorees To Be Announced).
There will be a live band on Deck, DJ, Red Carpet Interviews, V.I.P seating, Vendors, Food & Refreshment will be on sale. This is a great event to bring mom to! This years event will be hosted by the beautiful Madison Jaye.  Sponsors include 360styling, Toys R Us , Sajio Boutique, The Caribbean American Buzz , Styles & Vibes, Irie Jam Radio, Jetaime Shoes and Mixaholic Babes.
Billionaire Entertainment Magazine
Your Number One Urban & Caribbean Media Source Based In NYC. A Urban & Caribbean Website/Publication that features & Advertise Urban & Caribbean Lifestyle. Home of the BillionaireBoss, BillionaireBeauty, BillionaireBody. Also the home of the new cooking series (Itsblondelicious Cooking With The Stars) log to www.billionaireent.com to learn more.
About Itsblondelicious Xclusive Catering & Event Planning
Itsblondelicious Xclusive Catering & Event Planning LLC.company , has been in business for decades. We started of as Kings & Queens Restaurant in 1994 and has graduated to a full service catering company. We take great pride in working closely to understand your needs and wants as our customers.We make any and every event or celebrations our utmost priority and we never rest until you, the customers, are satisfied. Our Philosophy is every client is a celebrity and we treat you as such. No detail is too small and no problem is too big. We are backed by over 15 years of experience in the catering, party rental & event planning.
Tickets Are On Sale For $20. Early Bird Tickets Are Available for $15 now until April 5th 2014 on Eventbrite
Tweet This Post
{ 0 comments }