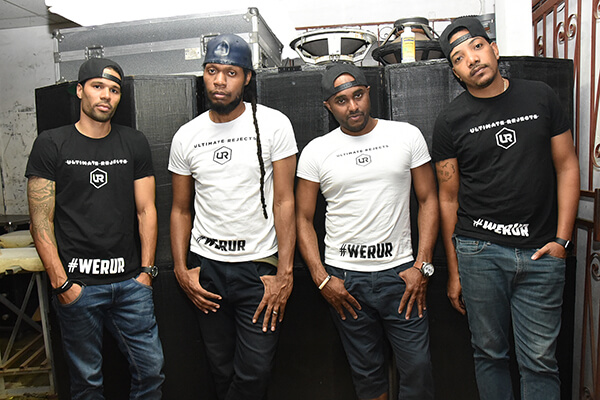 Usually, after having a successful Trinidad & Tobago carnival season, an artist is assured of 2 things; 1.) They will get bookings for carnivals around the world throughout the rest of the year, and 2.) They will start the following season booked out.  However, for the Ultimate Rejects, the later has not been the case.  After exploding on the scene with the mega-hit "Full Extreme", the 4 man team did do very well for 2017, but now that Carnival 2018 has gotten underway they are noticeably missing.  Apparently, we took it for granted that would've seen the reigning Road March champions by now, but 3 weeks into a short season with a packed calendar and more than 10 fetes already wrapped, we find it quite strange that the Ultimate Rejects have barely touched a stage.
We've seen artists like Patrice Roberts, Ricardo Drue, and Voice a minimum 4 times already, as well as top artists like Machel Montano and Kes at least twice.  But none of them – not even Double M, are the standing Road March champion.  Which is not to take away from these artists, their stage time is well deserved – in fact, Patrice currently has one of the hottest songs thus far ("Sweet fuh Days"), so we expect to see her at nearly every fete.  But shouldn't the Ultimate Rejects be the one definite on every lineup -– especially early in the season before we know what the popular tunes will be?  If their new music doesn't match up to "Full Extreme" then that's on them, but didn't they earned the right to present it?  It's like winning the Heavyweight belt and not being allowed to defend your title.  So maybe the question should really be, "Why are the reigning champs – who broke several records in route to victory, being ignored by promoters?"
It can't be for lack of material.  The group has released 5 songs for 2018 and 2 are in heavy rotation, receiving positive responses from both DJ's and partiers alike.  It's not a matter of money, as the guys have instructed their management to be flexible with performance fees in light of the country's recession.  And it's definitely not a lack of availability, as the group was fully prepared to start this season on top and are stunned that their phones are not ringing.  Not to mention, crowds are literally 'jamming still' whenever DJ's drop last year's "Full Extreme".
And let's not forget, for the past few years, 'Soca Pundits' – DJ's, pan men, mas men, media, revelers, and the like, have constantly debated "What happened to Power Soca?'  Some even going as far as declaring 'Power Soca is dead, and Groovy Soca runs carnival', and others calling for its return.  Well, The Ultimate Rejects answered the call. And now this year, not only is there an increased number Power Soca offerings, but when you really listen to them, you can hear how they are heavily influenced by the power of "Full Extreme".  You can't deny the Rejects made artists go back to the drawing board.  So wouldn't that mean, at least in some way, the Ultimate Rejects helped bring Power Soca back?
Bottom line, it's not like they're begging for a spot on any roster.  They've damn well earned it.  Yet, no one has really provided a viable answer as to why the Rejects are being….well, rejected.  So maybe it's has nothing to do with any of that. Maybe it's not that complicated.  Could it simply be that words have power? Maybe it's simply a matter of speaking it into existence. The irony is not lost on the fact that the 'Ultimate Rejects' are experiencing an abnormal lack of love following a history-making season.  
Whatever the reason, Ultimate Rejects, you are definitely missed and we take our hats off to you for always refusing to feed into drama by claiming conspiracy, Soca Mafia, or any other such setup, but instead staying focused on giving us great music.  For that, we thank you and will continue to search for you 'ITF'.
Jo Wheeler is a freelance journalist, entertainment reporter, and radio personality.  She has been covering Carnival carnivals and live music festivals across the globe for more than a decade. @WheresJoWheeler, @IAmJoWheeler Soca Sundays (@SocaSundays), Sunday 1-4pm EST