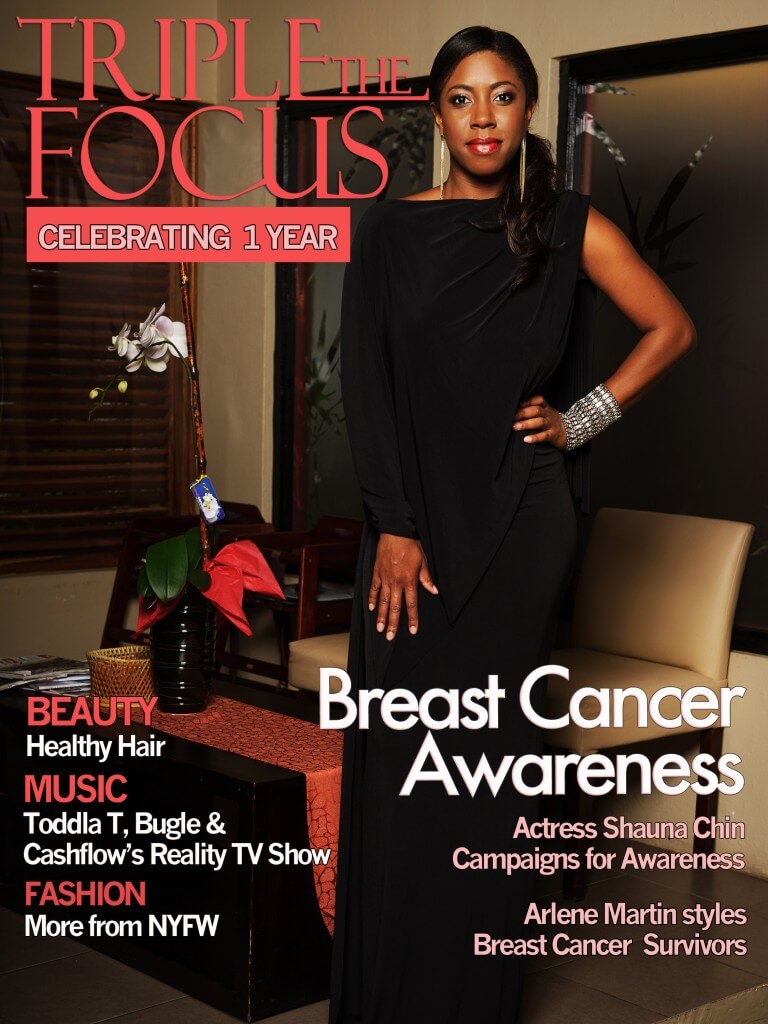 It's hard to imagine that it has already been one year. I still remember Stacey calling me about putting the magazine together and it just took on a life of its own. Expanding the team and the features in the magazine has been an intense learning curve as we continue to focus on keeping our readers at the forefront of all aesthetics of the magazine. Kudos to our Editor, Stacey for focusing on what matters most! We share our favorite magazine moments with you, it was hard to narrow it down! This is a great chance for readers to enjoy our previous features all over again (and maybe go back and read!) Also check out Stacey as she spoke with TVJ's Smile Jamaica about the magazine and what lies ahead for our future!
Not only are we celebrating our 1 year anniversary, but we are also giving a well deserved tribute to breast cancer awareness. I've had multiple friends and family whom have experienced breast cancer either as a victim or support. I have seen first hand how the disease affects everyone in the situation. I'm such a huge fan of drennaLuna, secretly await her photos each month to lay out the mag. Her pieces and photoshoot have such immense inspiration. This month is no different, Arlene, designer of drennaLuna, pays tribute to Breast Cancer survivors exuding strength, filled with life and bringing awareness to overcoming obstacles through her designs. Actress Shauna Chin's fight for breast cancer awareness ignited by her friend's death is courageous, putting herself out there for all the right reasons. Plus read up on tips on how to detect breast cancer and things everyone should know about breast cancer.
Staying in the healthy arena, Lauren's beauty feature about being healthy from within is a true reminder to take care of yourself and you'll see the results by feeling good inside out.
Musically speaking we have features of Bugle, after taking a short hiatus from music, check out how he's resurfacing. Check out DJ Toddla T, he's been working with a lot of dancehall artists creating an alternative dancehall sound with a little U.K. swag.
With more from New York Fashion Week and inside peek at Cashflow's reality TV show on HYPE TV…we are definitely Tripling the Focus in this issue and much more to come. Stay tuned!
Tweet This Post